2018 City Championship Report
The 52nd Annual City Championship (longest running scholastic event in history) was a smashing success for ICN programs across the board!
With 1467 players participating from across NYC, this was the largest City Championship in history. Impact Coaching Network (ICN) fielded 136 competitors representing teams from PS 11, PS 33, PS 59, PS 116, PS 111 and PS 281.
Our players showed much grit and determination as they competed fiercely against NYC's very best across 9 sections and two full days of chess.
In the end there was plenty to celebrate as ICN teams secured NINETEEN Top 10 team finishes, NINE team trophy honors, One team City Co-Championship, TWENTY TWO individual trophies, TEN individual medals and FIVE individual City Co-Champions!
We could not be more proud of our players' tireless preparation and dedication which was on full display the entire weekend.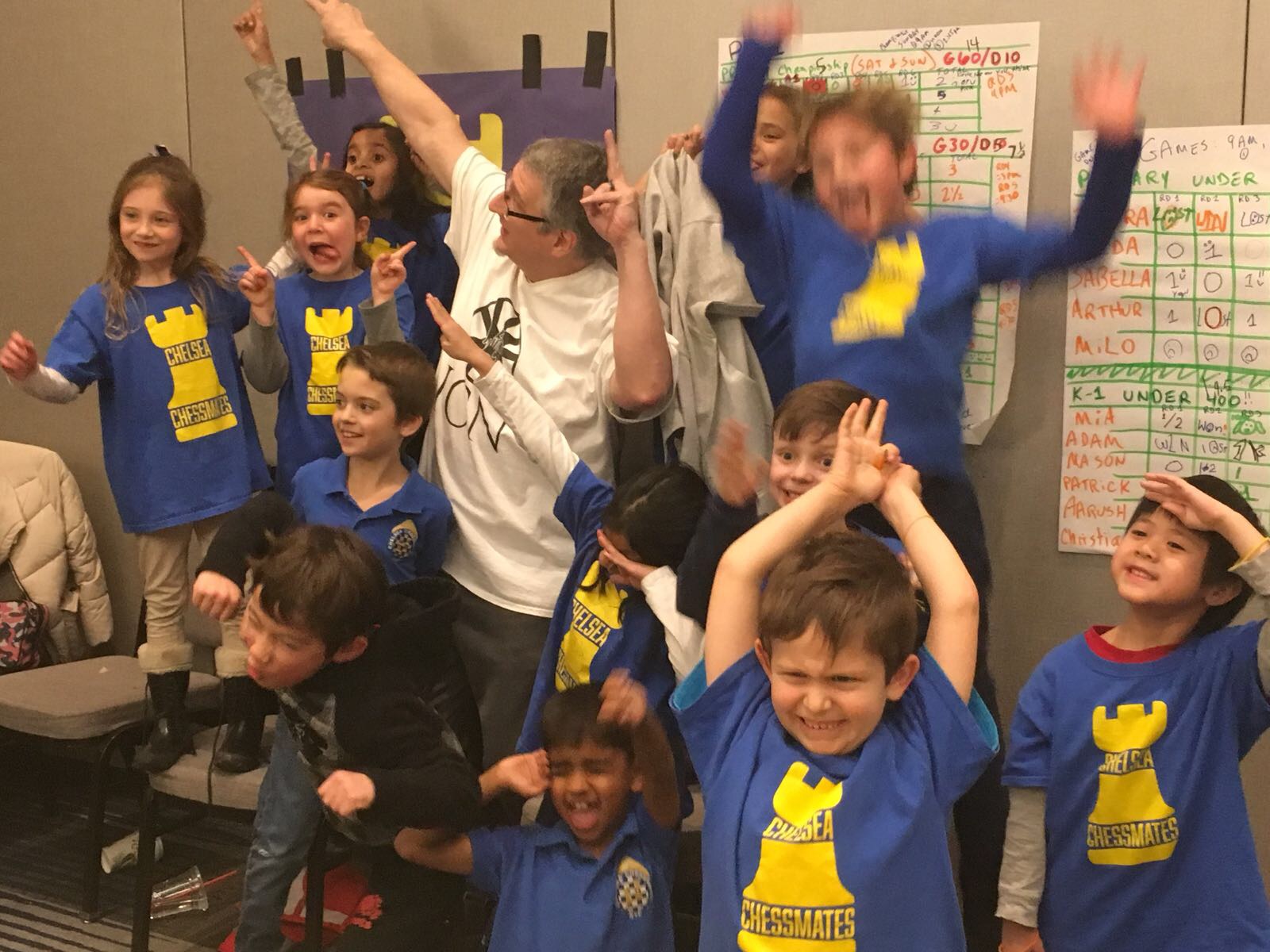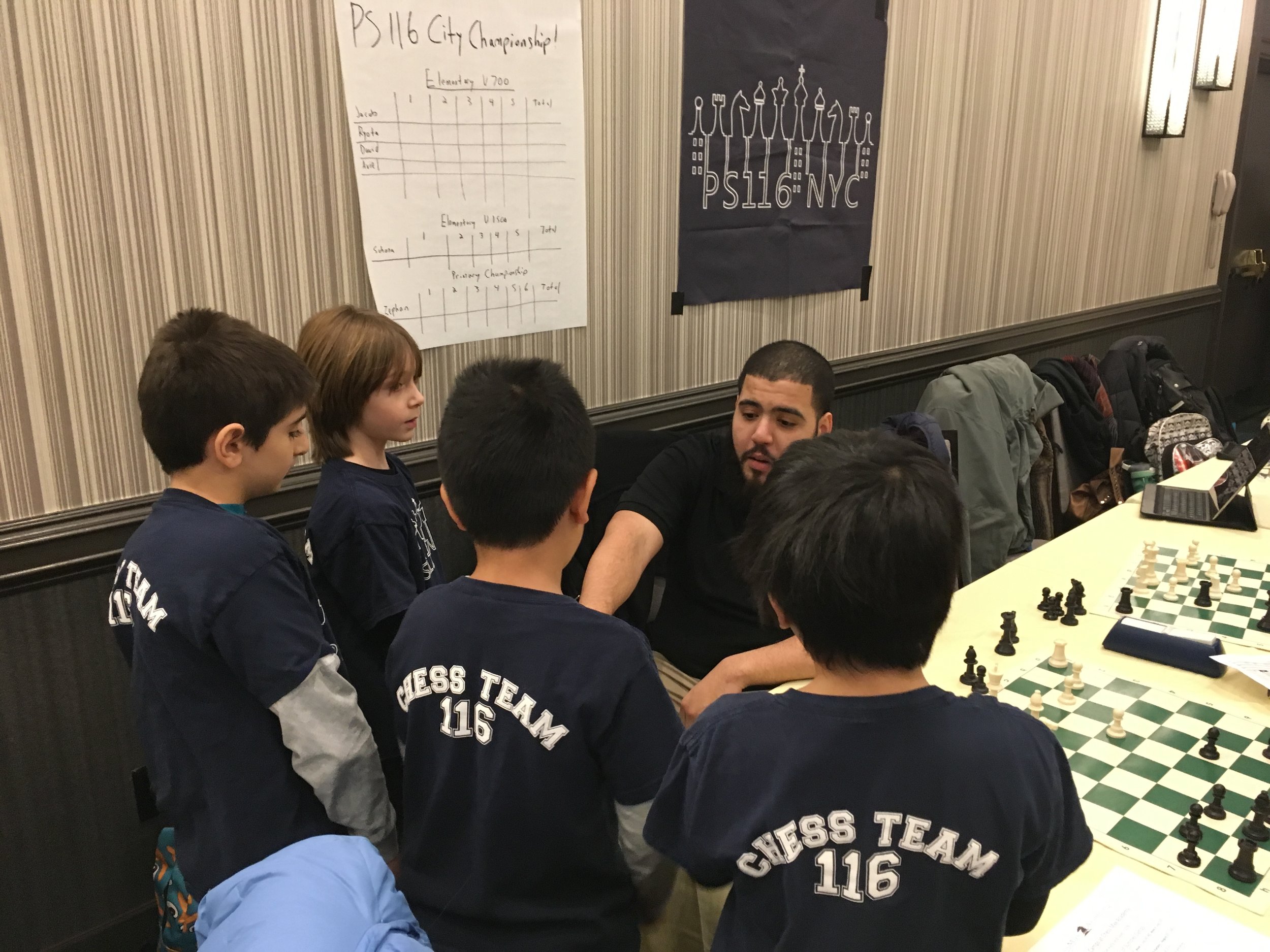 Team Standings:
K/1 U 400:
8th Place - PS 11
9th Place - PS 33
15th Place - PS 59
Primary U 600:
City Co Champion - PS 59
6th Place - PS 111
15th Place - PS 116
19th Place - PS 11
29th Place - PS 33
Primary U 1000:
6th Place - PS 59
7th Place - PS 33
9th Place - PS 11
Primary Championship:
6th Place - PS 11
9th Place - PS 59
10th Place - PS 33
Elementary U 700:
5th Place - PS 11
6th Place - PS 33
7th Place - PS 116
10th Place - PS 111
12th Place - PS 59
14th Place - PS 281
Elementary U 1100:
Elementary U 1500:
Elementary Championship
Junior High U 1300:
Individual Standings:
City Champions:
Agaram, Jyotsna, PS 33 - City Co-Champion (Elementary U 1100)
Fortuna, Joseph, PS 111 - City Champion (Elementary U 700)
Fortuna, Joseph, PS 111 - City Champion (Primary U 600)
Javeri, Arhan, PS 59 - City Co-Champion (Primary U 600)
Kumar, Suhana, PS 116 - City Co-Champion (Elementary U 1500)
Trophy Winners:
Reiss, Micah, PS 59 - 5th Place (K/1 U 400)
Liu, Julian Fu-Zho, PS 59 - 6th Place (Primary U 1000)
Lancman, Kaleb, PS 59 - 6th Place (Jr High U 1300)
Chamadia, Avaan, PS 11 - 9th Place (Primary Championship)
Gupta, Mira, PS 33 - 10th Place (Elementary U 700)
Ho, Cooper, PS 59 - 12th Place (Primary Championship)
Duvanova, Veronika, PS 281 - 12th Place (Elementary U 700)
Turley, Kert, PS 33 - 13th Place (Elementary U 700)
Yang, Abigail, PS 33 - 14th Place (Elementary U 1500)
Degregorio, Sophia, PS 33 - 15th Place (Primary U 1000)
Rubinov, Michael, PS 11 - 15th Place (Elementary U 1500)
Gordon, Robert Brody, PS 11 - 15th Place (Elementary U 700)
Class Trophies:
Liang, Hilmay, PS 11 - 2nd Place U 900 (Jr High U 1300)
Xu, Arthur, PS 11 - 3rd Place U 800 (Elementary U 1000)
Neill, Adam, PS 11 - 3rd Place Unrated (K/1 U 400)
Urilov, Aviel, PS 116 - 3rd Place Unrated (Elementary U 700)
Rau, Akash, PS 116 - 1st Place Unrated (Primary U 600)
Cacciatore , Luc, PS 33 - 1st Under 800 (Primary U 1000)
Medal Winners:
Goldberg, Ash, PS 11 - Medal Winner (Primary U 600)
Guo, Jonathan, PS 33 - Medal Winner (Elementary Championship)
Lerner, Harold, PS 111 - Medal Winner (Primary U 600)
Shen, David, PS 116 - Medal Winner (Primary U 600)
Shen, David, PS 116 - Medal Winner (Elementary U 700)
Wright, Caleb, PS 59 - Medal Winner (Primary U 600)
Delov, Dean, PS 59 - Medal Winner (Primary U 600)
Spinelli, Charles, PS 59 - Medal Winner (Elementary U 700)
Isaacs, Joshua, PS 11 - Medal Winner (Primary Championship)